Activities
24 activities match your search:
August 10, 2018 07:16:17 +0000
(

UTC

)
Zehel
EN Bandori 2nd Name Train dedicated to Akesaka Satomi!❤
明坂さん、ありがとうございます。
Thank you for your hard work and dedication to bring a smile to all members of the Bandori community!
We have been noticed by Akesaka Satomi!!
Link to Tweet: https://twitter.com/akekodao/status/1027838531811520513
Personal reply to original tweet
Name Train Credits:
#1: GudSushi
#2: Ponky
#3: Chubbs
#4: NyanPoyo
#5: Deer
#6: Chloe
#7: Shiromi
#8: Lorenzo
#9: Xepher
#10: Klitart
Picture collage by: NyanPoyo
Coordinated by: Xepher
Source:
https://twitter.com/GudSushii/status/1027784990958993409
July 19, 2018 04:13:05 +0000
(

UTC

)
idoltrashs
Alrighty, I just wanted to address something that's been on my mind with the Afterglow Persona collab coming up.
So, after the reveal of the Persona cards last week, it was kinda expected there'd be some controversy in regards to specifically Himari's card and the... let's say, implications the card has. I don't want to go into depth about that stuff because I don't want to cause any discourse.
That would be bad for me because well, I'm a staff member. And I gotta be professional and whatnot.
There was a post about Himari's card, and while I won't name-drop people, the comments on it got a bit heated. Not enough to be of grand concern, but I am glad that the people from that post have resolved that argument.
But there was something from that said post that irked me. It was a comment along the lines of "bushimo/craftegg have a male audience they have to appeal to."
Can I be perfectly honest? I hate this line of thinking with Bandori.
Yes, I know. Everyone says it about every single Japanese mobage with a cast that consists of mainly girls. "The developers gotta make fanservice-y content to rake in the money from the thirsty side of the fandom!! 💸" Yes, I know. When it's blatantly obvious fanservice, I will agree with this.
But... when it comes to Bandori, I just can never agree with it.
Yes, Bandori was a dying franchise 2-3 years ago and without the game, none of us would have never even known such a franchise existed. Yes, the game got the Bandori franchise the budget it needed to be able to create all this content and do all these great collaborations. Yes, the money the whales and dolphins and whatever other names we have for people who spend a lot of money on mobages spent is what keeps the game servers up and running.
But you know, the money comes from somewhere. It comes from the people who took the time to download the game, get invested into its story and its characters and felt a real connection to it. It comes from the playerbase.
Yes, there are game developers that forget this and maybe I'm biting off more than I can chew because I know literally nothing about the game development industry by saying this, but yes some of them will eventually lean towards the profitable side of the industry rather than the side that actually helps their games thrive.
I just don't think Bandori has those kinds of game developers. Not yet, at least, and hopefully, not ever.
I'd recommend you all to read this article. It's an interview with CEO of Craft Egg and one of Bushiroad's producers about Bandori, and I think it gives a lot of insight to how the developers think of their game. So next time you think, "the developers don't care about the Bandori playerbase," just know they genuinely do.
October 11, 2018 03:06:05 +0000
(

UTC

)
LatidoReMe
Battle of the Bands v4
Dates: October 27th-28th & November 3rd-4th
The staff of Bandori.Party are proud to announce the 4th Battle of the Bands! Featuring a shifted focus onto Missions & a revised Scoring System for Battles, both veteran and new groupies will want to read up on what's coming this time around.
General Outline
The Battle of the Bands is a special event hosted by the staff of Bandori.Party and other community members! Through Battles and Missions, you'll earn points for a band we assign you to represent! Once everything is over, the final results will be calculated, rewards will be handed out, and that's that! Sounds simple, right?
How does it work?
BoBv4 will feature 2 different methods of contributing points: Missions & Battles! Groupies are only required to participate in one of these, however you're allowed to participate in both. Based off the points gained from these two aspects of the BoB we'll tally up each band's total points, and the band with the most will be the winner of BoBv4!
Missions
Introduced in BoBv2, Missions are one way to gain points for your band! The IE team (the staff in charge of missions) assigns groupies Individual, Group, & Non-Bandori challenges each day in #missions_info, and points are distributed to the groupies' bands upon completion!
With flexible time limits & missions catered to all the different skill types, you can feel confident in your ability to contribute to your team with Missions!
Battles
A staple ever since the start of the BoB, Battles allow groupies to duke it out against other bands in multilives! During a Battle Captain's block, sign up to represent your band, and perform during the live to the best of your abilities!
With only a handful of 30-minute blocks & points scaling based off of performance, these are for skilled individuals whose hearts yearn for competition!
Interested?
If you are interested in participating, then read up more on Missions or Battles, & then use the registration forms linked up above to sign up!
Wanna Know More?
To check out our FAQ, go to our BanPa BoB Playguide and scroll to the bottom! If that doesn't answer all of your questions, then feel free to leave a comment down below, message us on our Twitter, or ask us in our discord server!
October 14, 2018 13:41:54 +0000
(

UTC

)
pooters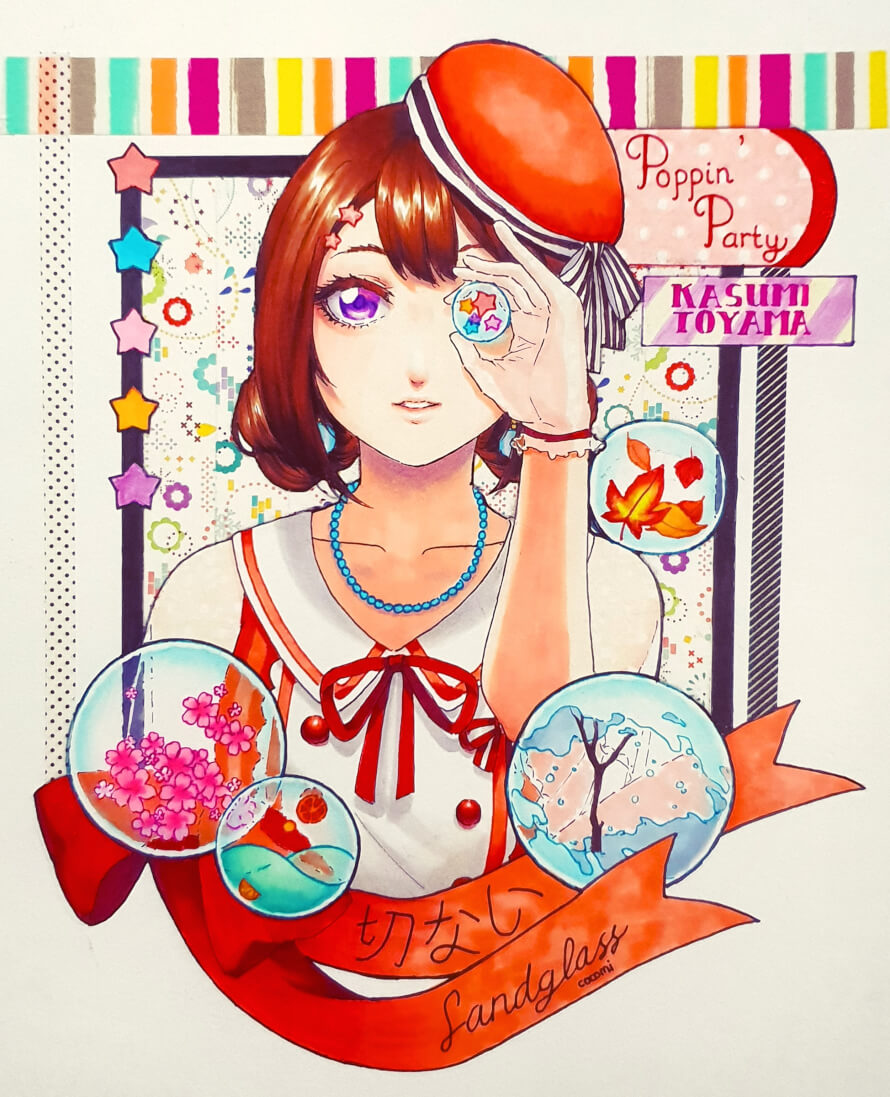 August 19, 2018 19:11:18 +0000
(

UTC

)
ktan17
hey everyone! i'm not sure if this has been done before, but i thought i'd post a quick tutorial on Markdown, which is a neat way to quickly style your posts (and it works on bandpa!)
Bold Text
To bold text, use double asterisks:
**This text will be bolded**

Italicized Text
To italicize text, use single asterisks:
*This text will be italicized*

Strikethrough Text
To strikethrough text, use double tildes:
~~This text will be strikethroughed... is that a word?~~

Headers
To create headers, use octothorpes (more commonly known as pound symbols or hashtags 😉)
# Heading 1
## Heading 2
### Heading 3
#### Heading 4
##### Heading 5

Make sure to put a space before your text!
Lists
To create a list, just use asterisks or hyphens
- item 1
- item 2
- item 3

Hyperlinks
To hyperlink text, use the following syntax:
normal text normal text [this text will be clickable](your-link-here.com)

Images
To add an image, use the following syntax:
![img](link-to-your-image.jpg)

---
Of course there's much more you can do, but here are the basics. :) If you really like Markdown and would love to use it to take notes for class or whatever, I'd highly recommend downloading a Markdown editor like Typora!
happy bandpa-ing!
October 05, 2018 05:04:55 +0000
(

UTC

)
LatidoReMe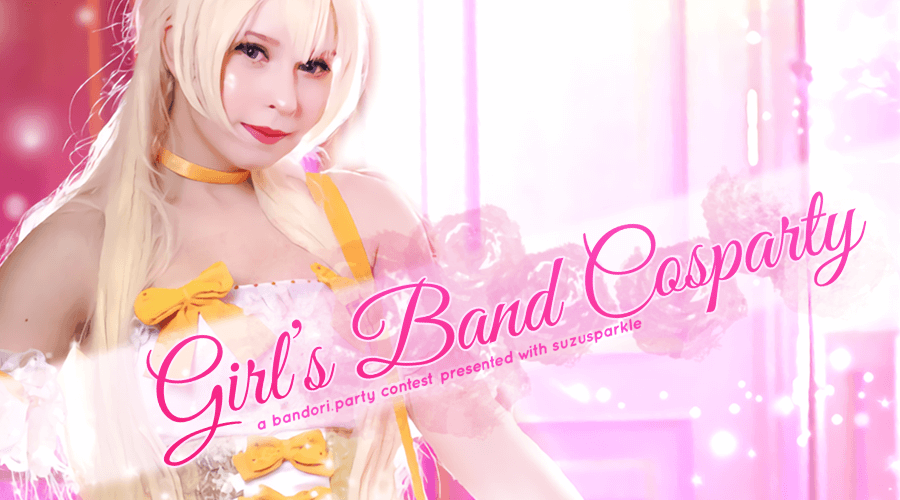 Girl's Band CosParty
a bandori.party contest presented with suzusparkle
---
Do you love to take on a persona, dressing up as someone you are not? Or do you get a thrill out of snapping beautiful photos of cosplayers? If so, this contest is perfect for you!
Use your abilities to coordinate a wonderful BanG Dream! cosplay, and then get a beautiful shot of it for everyone else to see!
Share your BanG Dream! cosplay photos with the rest of the community, and help hype everyone up for the costume-tastic times ahead!
Dates
October 10th - November 15th UTC
Winners
There will be 2 winners overall!
🏆 Most popular: Throughout the event, the community will be able to give likes to posts, and the one with the most at the end will be the most popular!
♥️ Suzu's choice: Our guest judge will use her extensive experience and knowledge in cosplay to judge all the entries and pick the best!
Prizes
Your choice from our Physical Prize Pool
OR
Custom Digital Artwork by a Circles Designer
How To Enter
To enter the contest, you must make a new activity on this website with at least 1 of your BanG! Dream themed cosplay photos that has the #CosParty 2018 tag!
If you don't know how to make an activity like this, please check out this section from our help page for guidance!
Frequently Asked Questions
Q. Who is allowed to enter?
Anyone with a Bandori.Party account! We believe that cosplay is for everyone, so we're putting no restrictions on entrants.
Q. Can I submit a photo of someone else wearing a cosplay?
If you took the photo and have the permission, then yes! We understand that some people are better with lenses, and other wigs. If you were involved with the shooting of the cosplay and have permission (either wearing or photographing), we'll gladly accept it.
Note: If there are any other people clearly visible in the photo, they must give their consent too, or else be blurred out
Q. What characters can I cosplay?
Any form of a character from the entire BanG Dream! franchise. While the 25 main girls in GBP are the standard example, you could also try for Raychell, Debeko, the Suits, etc. We allow gender-bending and other creative takes on the characters too, so feel free to let your creativity soar!
(Also if anyone wants to cosplay our mascot Kanae, we'll accept those entries too)
Q. Is there a theme?
Nope! This contest is being held for Halloween, but we don't require the cosplay to fit the season. Make your cosplay theme whatever you think would be the most fun!
Q. What do you count as a "cosplay"?
Anything that you believe captures the essence of a certain character and is worn by someone (or similar, like a mannequin) in a photo counts! If you're short on cash or not confident in your abilities to sew outfits, feel free to get creative! The cosplay doesn't have to be a complete outfit either, so feel free to focus on just a dress, or making your face just as Bushido as Eve!
Q. What if my cosplay isn't done before the deadline?
If you believe that what you currently have still follows our definition of a cosplay, then you're free to submit it! You're allowed to edit your activity mid-contest too, so you can share your whole cosplay journey with us if you want. We and the rest of the community would love to see all that you've done, so feel free to post your WIPs too.
Q. What type of photo is needed of the cosplay?
Any appropriate photo of the cosplay being worn that wasn't already used on a Circles website or contest is acceptable! You can shoot it with a macro, a long-focus lens, your phone, your tablet, kindle, etc. Any location will work for the photo, and we'll allow you to moderate post-processing to your photo too! We want the integrity of the original photo to be intact, but feel free to add that extra little flair to make your photo truly shine.
Q. Am I allowed to showcase multiple cosplays?
Of course! We suggest posting them in the same activity, but you're free to make multiple entries as long as each features a separate cosplay.
Q. Are we allowed to promote entries on other social media?
We encourage this! More promotion equals more people discovering beautiful cosplays made by this wonderful community, so we are totally cool with you promoting entries! As long as you don't try to unfaithfully manipulate entries (ex. "I'll give you a dollar for a like"), we'll be all for it.
Q. Do I need to give my physical address to receive a prize?
We only need your physical address for physical prizes. We have digital prizes available for those who would prefer not to give out this info.
Q. How many prizes can I win overall?
You can only win 1 prize overall, even if you make multiple entries or succeed in multiple categories. These contests are about connecting and having fun with the community (instead of having your "eye on the prize") so we limit this.
Q. Who is suzusparkle?
suzusparkle is a talented BanG Dream! cosplayer who has been invited to be our guest judge for this contest! Using her experience in the world of cosplay, she'll give the entries a special perspective, and will assist us in deciding a winner.
To learn more about her, check out her Instagram, Twitter, or Facebook Page
Any More Questions?
If you have any other inquiries, feel free to reply in the comments or contact us, and we'll do our best to answer them!
Have a happy Cosparty everyone!
July 24, 2018 01:55:52 +0000
(

UTC

)
violetR
ANNOUNCING THE WINNERS OF KANAE'S BAND EXPERIMENT + CHANGE MY MIND!
Sorry for the delay everyone, we've been super busy working on some cool, new features for the site. However, we have decided all the winners from our past contests.
First up, Change My Mind Winners!
We previously announced the winners on Twitter and promised a write-up, and now that's here for you all! Each winner got a custom piece of art/design of their best girls! We also have an honorable memetion, which unfortunately did not meet the criteria from the original post. However, you can check this out here!
Popular Vote
Staff Pick
Random Pick
Next, the Kanae's Band Experiment Winner!
Judging for this contest was quite hard, as exemplified by our judges and our thoughtful staff members. They seriously loved ALL the designs! If you want to share your design on the site, please feel free to do that under "Fan Made" and "Community" tags! We posted all the entries in the last contest, but this time we feel it best for everyone to decide if they'd like to show it or not, and so that you can get the proper views/comments you deserve!
Without further ado, here's your winner of the Kanae Band Experiment Contest!!
Submitted by Canada
This design will be drawn by Brella just like before!
Our guest judges for the design/artist section of the contest were Misha, co-creator of Vocaloid Ruby -- Atychi, a fan-artist who knows who to hit you in the feels -- and, Andy, another fan of BanG Dream! whose fan art is cute and their love for HHW knows no bounds.
Misha's comment for the winning design was as follows, "This design has a very precious feeling to it, and fits right into the bang dream universe! I love the star motif, and all the colors work perfectly together. Overall, it's a very well coordinated design!"
Atychi's comment towards the winning design was, "This design was both cohesive and eye-catching, managing to be stylish and interesting while still being recognizably #BandoriParty. The balance of details throughout the character make for a truly wonderful design fitting of #BandoriParty and our Dear Mascot, Kanae."
And finally, Andy's feelings for the design were, "A very charismatic design. It has a lot of positive energy around it, a clever combination of elegance and fun."
The staff overall had thought the design fit the theme of Bandori.Party, as well as incorporated great details like the music staff into her sash, as well as kept the BanG Dream! thematic in together as a whole and gave us a really good package!
Again, thank you everyone who applied for the contests and participated. We loved every design, every single written piece of devotion to Best Girl! Thank you all for making BanPa such a great site to visit and work on~ <3
July 01, 2018 02:30:08 +0000
(

UTC

)
db0
Edit: Some people weren't able to finish their entry on time, so we are adding 5 days to the deadline.
Edit: Winners part 1 - Winners part 2
Make sure you post your entry, and take that extra time to vote for your favorite as well!
---

Are you ready for another beautiful summer full of idols and fun? So are we! That's why we've decided to celebrate this sunny season with a photography contest!
Use your creativity to think of a beautiful summer-themed photo with one or more of the characters from one of the Circles family websites, and then make it come to life with your own camera!
Share your art with the rest of the community, and help us spread excitement for another exciting idol-filled summer! And of course, win amazing idols-themed prizes!
Dates
July 1st - July 31st
How to enter?
To enter this contest, all you will need to do is make an activity on a Circles website that features a character from a Circles website, and share the photo with the tag, "PetiteIdolStudioSummer"!
How to post an activity with a hashtag on School Idol Tomodachi? Follow this guide and make sure you write "PetiteIdolStudioSummer" (without the # sign) anywhere in the content of your activity.
How to post an activity on Bandori Party, Cinderella Producers or Stardust Run? Click the button that says "Add activity" on the homepage. Make sure you check the checkbox "PetiteIdolStudioSummer" under "Tags". You can add other tags if you want.
How to post an activity on Maji Love Collection? Because Maji Love Collection is not launched yet, you can enter on Twitter or Instagram using the hashtag "#PetiteIdolStudioSummer" and mention @MajiLoveCollect. Make sure your account is public, or we won't be able to see your entry!
Rules
Minimum of one photo per entry, multiple photos allowed, no max.
Multiple entries are allowed, but there will only be one prize per winner.
Only activities posted after the contest starts and before the contest ends will count.
You can submit videos, texts or any other kind of multimedia, but your entry needs to contain at least one photo.
General rules of activities apply.
You may enter in a single category or multiple categories. You don't need to specify it.
How to Win?
Categories

Show off your photography skills with the best location, perfect lightning, best angle and overall beautiful photo!

Stick to the summer theme, drive to the nearest beach, or wait for a sunny day to take your merch to the best summer party they've ever had! (Or sickest winter slopes, if you're in the Southern Hemisphere)

After stocking up on merch for so long, today's your time to brag! Show off your extensive collection and dedication to your favorite idols to win!
Websites
You have until the end of the giveaway to get as many "likes" as you can on your activity. So share it with all your friends to get likes!
Prizes
There will be 1 winner + 1 runner-up per category.
Winners per categories will be decided via a vote from staff members and contributors.
Prizes will be distributed based on how many staff points an entry received. The winner with the highest score gets to pick their favorite prize first.
There will be 1 winner per website.
The top activity per website with the most likes will be the 1st winner.
1st winners for each category (x3) get to choose between:
If you're not interested in any of the items we have, you can get the 2nd prize instead, or a custom digital drawing or edit
Runner-up winners for each category (x3) get:
1 high quality print of a custom illustration by one of our artists, made just for you
1st winners per website (x5) get:
Their choice of official merch from a selection per license

BanG Dream!

[email protected]

Uta☆Pri

Pokémon

If you're not interested in any of the official merch we have, you can get a custom digital drawing or edit instead
FAQ
What if it isn't summer where I live?
Hey mate, you are free to do winter instead, and will be able to enter the "Summertime Sweetheart" category just like the other summer pictures. We just want you to capture the essence of your current season!
I don't feel like taking summer-themed photos, can I just take normal photos of my merch?
Yes. It will not qualify for the "Summertime Sweetheart" category, but you still have a chance to win in the other categories!
Do I need a good camera and good photography skills?
Any camera will do. If the quality ends up not being so good, you won't be able to win the "Picture Perfect Idol" category, but you can still use your creativity and take your chance to win in the other categories!
What if I don't have a lot of merch?
You don't need "a lot" to do well in this contest! Even one item is fine. It might not get you to win the "SUPER OSHI" category, but we care about quality over quantity, so get creative, and see what summer-themed things you can create, or show off your photography skills!
What if I don't have any merch, at all?
Get creative, create your own! Printed characters work too! (As long as you use official images, your own art, or fan-art with the artist's consent + credit)
Do I have to use official merch only, or fan-made are allowed?
Fan-made merch are allowed, but we insist that you should do your best to find the artist and link to their store. Of course, you are also allowed to use your own merch.
Can I re-use old photos?
Yes, but they need to match the theme and you need to take them yourself. We might ask you for proof or retakes if we can't say for sure that you took them, and we may eliminate you if we find out you didn't.
I am not able to give you my address, can I still participate and get a prize?
We will be able to give you a digital prize instead, so feel free to join.
Most BanG Dream! characters are not idols, and Pokémon are not idols, can I still enter with a BanG Dream! / Pokémon themed photo?
Yes! We are aware that not all of them are idols, but we use this word because it's an easy shortcut.
Do I need to specify which category I'm entering?
You don't need to specify which categories you're entering.
Can I photoshop or edit my photos to add decoration, stickers, etc.?
You may add decorations, stickers, or do any kind of post-processing if you'd like. However, for the "Summertime Sweetheart" category, we will only take into account summer-themed decorations that are in the actual photo.
Can I include people in the photo?
Yes, you can include whatever you want in the photo as long as it's aligned with the general rules for activities and it contains some merch of any kind.
Any other question?
Reply in the comments section and we will do our best to help you.
August 06, 2018 13:14:33 +0000
(

UTC

)
dayo
a follow-up on the most exciting weekend of my life ꒰ᵕ༚ᵕ⑅꒱
i've been posting a little about it on this site (and spam tweeting but shh) so i think i'll round up everything in one post for anyone who's interested, or just to share my experience! on friday, i went to see the roselia 5th live dv, and on sunday i saw popipa perform LIVE and honestly, i'm so thankful for this experience
—roselia dv
i have a lot of feelings on this omg!!! watching the third perform was a whole FUCKING EXPERIENCE THEY WERE SO SO GOOD and then ROSELIA CAME UP AND PERFORMED and honestly the 5th live footage is an emotional rollercoaster all the songs are sososo good i can't wait for y'all to see it!
special mention to kiseki! the camera kept panning to yurishii and aiai's high note at the bridge brought me to tears, it was incredible i really hope they upload it on youtube ;u;
and then yukki came out in the bridge of black shout,,, and they ended the live with hidamari rhodonite,,, this post will be wayyy too long if i type all my feelings about it out (i can in the comments maybe hehe) but to keep it brief... yurishii seems really at peace with her decision. everyone will miss her, but i'm so proud of her, and how radiant she is. she's passed on a lot to yukki (like the okay gesture oof) and i'm glad i got to see her smile for the last time ;;;
thank you sm roselia, you are ALL SO TALENTED AND I LOVE YOU SOSOSO MUCH
—popipa live
it still feels so unreal that i saw them perform live,,, in fact i saw them during the meet&greet though i didn't get a pass BUT I WAS TWO WHOLE METRES AWAY FROM RIMIRN AND SHE SMILED AT ME AND I ALMOST BROKE DOWN HOLY SHIT RIMI'S SMILE IS PERFECTION
but the live performance,,, holy shit it was only six songs but i could feel their love and energy in each song and i cheered my lungs out for them!!!! they even performed saa ikou for the first time and haiosfhai it was perfect! aimi didn't mess up at ALL and all of them were so cute and did their best to speak english to us (saechi asked 'are you fun' omg i love her)
popipa is honestly sososo talented and charismatic and wonderful and they're all so fuckin pretty irl??? they stayed up till 12am for practice the day before and every second of their performance is so precious to me... hearing them promise to come back to singapore again made me sososos happy I LOVE THEM ALL SO MUCH THANK YOU POPIPA
—overall
i'm just,,, so immensely grateful for this chance to immerse myself with the bandori seiyuus. it's only reaffirmed my love for the series, and i hope one day everyone learns to love the seiyuus as much, if not more, as the characters themselves. they're all such beautiful and talented and amazing role models, and i love them all so much i can't even put it into words.
another thing about bandori is that... it has the power to move people through their music. i went with my friend who knew next to nothing about roselia for the dv, and she was equally as emotional when they performed, especially at hidamari rhodonite. i went with my little sister for the popipa live, and although she isn't a HUGE bandori fan like me and was a little reluctant, she went WILD during the live and was cheering as loudly as me and yelling about how fucking amazing aimi's falsetto was
to conclude, i'm just... so thankful for bandori as a series. the story, the girls, the seiyuus: they're all so inspiring, and have touched my life. i'm so glad i found bandori, popipa & roselia's seiyuus really do mean the world to me aaa
p.s. if you have any questions about the live or want me to ramble more!!! i can do so in the comments HAHA this post is so long already uuuu
July 27, 2018 08:48:29 +0000
(

UTC

)
db0
Side note: if you want to follow the website's updates, big and small, join our Discord and read the #website_updates channel!
---
Introducing:
A Boppin' new feed
★ New tabs
If you're logged in, you'll see 6 little tabs at the top of the activities. These are shortcuts to help you enjoy our little social network!
Popular (default): activities that have more than a certain amount of likes (amount will vary during testing phase)

Popular activities can be recognized with a 🔥 icon
Hot: all activities, ordered by our magical formula to make sure you enjoy great content ✨

We recommend to set this tab as your default (in your settings) if you want to see a good mix of new content and content loved by the community!
Because the activities are not filtered, we don't recommend you to visit it if you're under 18 or not ready to see sensitive content.
New: the latest content that just got posted, unfiltered. Perfect if you want to make sure you see EVERYTHING that gets posted.

Be careful as you're browsing it, because you might be the first person who sees these activities!
We don't recommend you to visit it if you're under 18 or not ready to see sensitive content.
If you see anything that doesn't follow our rules, please help us by reporting it. Learn more: https://bandori.party/help/Report
Following: all the activities posted by the people you follow.
Staff picks: content curated by yours truly, the staff team!

We will generally focus on activities that cover BanG Dream! news you should know about, community events, and truly outstanding fan-made stuff.
🔍: Advanced search

Plenty of options to search, order and filter activities, including tags, activities that have an image or not, languages of the activities, ordering by most popular (all time or this week), and many more!
★ Archive your activities
Have you ever been in a situation where an old activity of yours keeps getting liked and spams the homepage feed?
You can now "archive" your activities that are more than 30 days old.

Archived activities can be recognized with a 📦 icon

People will still be able to like them, but they will not get pushed to the top of the feed.

If you have a donator status (http://patreon.com/db0company), the 30 days limit does not apply!

In the search bar of the activities, you can hide activities that were archived.

You can change your email settings to only receive emails for activities that are not archived.
★ Copy-paste the URL of your activity to easily share it
A new button appeared right next to the Twitter/Facebook/Reddit share buttons. Click it to copy the URL of your activity to your clipboard!

Only works if you have Javascript enabled. If you don't know what it is, you have it, don't worry.
A fleeting new settings page (+ profile)
★ With table of content at the top with buttons to scroll to sections:
Profile: customize your profile and make it your own special page!

Preferences: enjoy your stay by shaping your own experience

More: add/edit accounts, see who you blocked, any recent report, etc.

Button to scroll back to table of content under each form
★ New options to add links:
Cinderella Producers
OSU
Pixiv
DeviantArt
Crunchyroll
MyAnimeList
Anime-Planet
MyFigureCollection
Carrd
Listography
★ New activities preferences:
View activities in your language only

Default activities tab (homepage)

Default language when posting activities (can be different from the interface's language!)

For example, if you use the website in Spanish but generally post activities in English, English will be preselected for you.

Hide tags you don't want to see
★ What has been reported recently
If someone reported your content and a moderator decided to edit or delete it, you will receive an email telling you why.
We noticed that some people didn't receive the emails, so you can now see all your things that got reported and edited/deleted in the last 30 days (content similar to what's in email)
★ Add a custom link not in the list
If you have your own personal website or just one of your pages that you'd like to emphasize, we now have an option to add a custom link.

It's a "premium feature", only available for donators! Learn more

Are you already a donator?

You've always been able to set your own link that shows up on our donation page, but to change it, you had to ask us.
Now you can update your custom link yourself under the settings page!
Your custom link will not just show up under the donation page, but also on your profile, as the first link!
★ Various changes:
Language separated in its own form
If a user speaks another language than yours, it will be indicated on their profile
Form to change password has a link to reset password page in case you forgot it
When submitting the following forms, instead of redirecting to profile, will just show a message saying "Successfully edited/added!"

Username/email, Add link, Change password, Emails preferences, Activities preferences, Donation link
More Bushido
★ Copy-paste the URL of cards, members, events, songs, and more!
A new button appeared right next to the Twitter/Facebook/Reddit share buttons. Click it to copy the URL to your clipboard!

Only works if you have Javascript enabled. If you don't know what it is, you have it, don't worry.
★ Various
Faster loading of your profile's custom description
We updated our set of icons to better illustrate the concepts we talk about on our website.
If you disabled javascript, the pagination used to work well, but the buttons were a bit ugly. We made them look better.
May 20, 2018 03:51:30 +0000
(

UTC

)
violetR
Let's Celebrate! 1 Year Anniversary & Activity Launch!
We're here to say thanks for the last year of support. The site and it's accompanying community have grown exponentially just within the last 2 months, mostly in part to the launch of the World-wide GBP Server! We want to celebrate with two new, very special contests.
"Change My Mind" Challenge! - Activity Launch Contest
For activities, it'll be a bit simpler. Write a compelling post about why your best girl means so much to you. Don't be skimpy! You love her after all, don't you? You can include images of your shrine, anything you've done to celebrate her birthday, or draw some fan art/share your fan art! If you use images that don't belong to you or aren't sourced from the game itself, please credit and use with their permission. The tag used for this contest will be "Change My Mind Challenge". Please, do not use negative words/present other girls as negative to promote your own girl, as it is against our guidelines and will be deleted and ineligible for competition.
The contest will run 2 weeks, until June 3rd.
There will be 3 prizes for this category!
The most liked activity using the "Change My Mind Challenge" tag
Staff Pick (Made Us Cry & Almost Changed Our Best Girl For You Award)
Random Pick!
Prizes
For the winners of Staff Pick & Most Popular, you will win a custom commission from one of our lovely community artists, Hisoku & Grey! They just ask that you pick something for your art that is BanG Dream! Related, since you did write an essay about your best girl! The winner of random draw will get a twitter layout commission or other graphic design element of your choice from BrokenMaddnessu!
Kanae's Band Experiment -- 1st Anniversary Design Contest!
Our mascot, Kanae, has been with us for almost a year now as well. Our anniversary might have been in April, but she came into being that following summer. She represents the database and stores all the information here for you to see! However, she's missing some important information about the series she feels she can only get if she were to join a band... So, Kanae begins her quest as a temporary band member to collect new, percise information!
We don't have many guidelines, because we want to see what you come up with! All we ask is you design a live/band outfit for Kanae. It can be from the same vein as a currently existing band, or a whole new concept if you'd like. All we ask is don't submit Kanae wearing an already made outfit in the game. Her position in the band is undecided, so you can render her as a drummer, singer, keyboardist, or anything else! Also, be sure to read the terms & conditions for the contest when you submit.
PLEASE, do not share your entries on the site or off the site until results of the contest are posted. Thank you!
If you don't think you're the best artist, we will take your design idea and one of our staff artists will redraw your vision! You don't have to do a fully rendered art piece to win!
---
FAQ
What do you mean by a 'rendered image'?
This would mean you provided a full body image, fully colored/shaded and in high resolution. However, we realise not all great ideas come from people who can fully render their idea.
So, what should I include if I submit just a design?
You can be as detailed or not as you would like, however keep in mind overall design will be judged. So we'd like to see a hairstyle, hair/eye color, the outfit, any accessories she might have, and a color palette.
What Happens to my design if it wins?
This is covered in the Terms & Conditions you accept when you submit your design/image. Please read it on the submission form.
Where can I see a full reference of Kanae?
Click the button with "..." next to the globe, and view "About Us" to see Kanae in her full glory as drawn by @Nyarasho on twitter!
Anything else?
Please take all the liberties you want, but keep in mind that the character is a manager of the Bandori.Party live house, and should reflect that. If you have anymore questions, we would be happy to answer them below in the comments!
Prizes
The winning designer will get either a 10$ or 1500JPY gift card to Google Play/iTunes to purchase a Premium Box, as well as a special badge to commemorate their win! All Participants will also get a badge for their BanPa Profile.
Additionally, there will be a physical prize of your choice. We have 1 Yukina Shikishi, Hot-stamped with her signature from last year's Lawson Collab, or a collection of Motto! Garupa Life 4komas that was sold at the Garuparty event in January.
Contest Ends June 17th
May 12, 2018 04:50:32 +0000
(

UTC

)
violetR
ANNOUNCING ARGONAVIS
An Exciting New Chapter for BanG Dream!
Announced shortly before the beginning of the 5th Live at Makuhari Messe Hall, the project for a "Male-Centric" universe of BanG Dream! had been revealed by announcing their very first live!
The announcement tweet gained much traction after the initial retweet from us at Bandori.Party! At this time, the only information that had been given was the announcement of 3 Cast Members: Maeda Seiji, Morishima Shuuta, and Hyuuga Daisuke, and that their first live will take place in the month of July, with more cast members to be announced. See the 3 Seiyuu introduce the project in this video!
After about an hour or so of comments of fans of the franchise worried about the interaction of the male characters with the girls from a series called "Girls Band Party", Kidani, who manages the franchise and is it's creator, sent a series of tweets to calm fans:
"The Male Bandori Project is a different world than the existing Bang Dream story. The characters will not mix and it is 100% different." Original Tweet
"I also don't want to see males appear in the world of Bandori. The limit is the characters' fathers. (Though this is just a personal view)"Original Tweet
That's all for the news round up on ARGONAVIS. How do you feel about this new addition to our beloved franchise? Remember to be courteous with your discussion, whether you're for the project or not, it is happening!