25 activities match your search:
March 26, 2020 02:34:34 +0000
(

UTC

)
violetR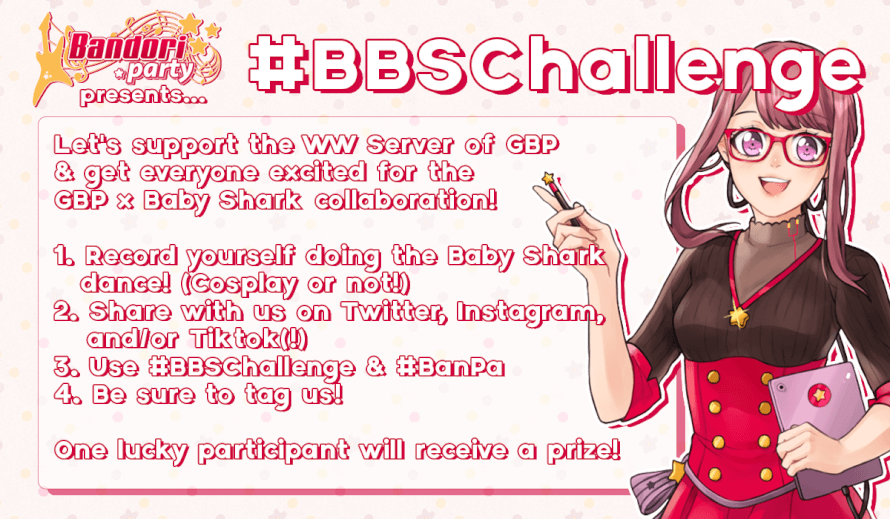 Bandori.Party Announces... A Campaign for WW's collaboration with Baby Shark!
Hi all, I know all of our socks were rocked plum off when GBP WW announced Baby Shark was really coming this month (we reported it first)... We've seen a lot of positive feedback regarding the decision to have this collaboration on the Worldwide server, and plenty of negative as well. However, at Bandori.Party we try to see the best of things and have decided to hold...
THE #BBSCHALLENGE!!
What is that, you ask? Well, it's a cute idea where BanG Dream! Cosplayers can dress up as their favorite characters, and do the "Baby Shark" dance! Having fun and dancing to this infectious meme-song can actually leave you in a good mood sometimes, and seeing your favorite characters do the dance can only enhance the experience, right? However, we also are looking forward to even seeing NON-COSPLAY entries from our community members as well!
Make sure your submit your entry before [utcdate=2020-04-19T10:00:00][/utcdate].
Submissions close in [countdown=2020-04-19T10:00:00][/countdown]
What is the Baby Shark Dance?
We teamed up with community members and cosplayers to show you how it's done! Check the videos below to see their amazing examples!
How to do the Baby Shark Dance - by
You can follow himboluvr on TikTok, Instagram and Twitter.
How to do the Baby Shark Dance - by auracosplay
You can follow auracosplay on Instagram.
How to do the Baby Shark Dance - by shujineko
You can follow shujineko on TikTok and Instagram.
You can also check the official dance video.
How Do I Participate?
Dress up as your favorite girl, or otherwise, from BanG Dream!
Record yourself doing the "Baby Shark" Dance!
Post it to either:
Guidelines
Negativity toward the cosplayers having fun is a huge no-no, please support their hard work! Even if you don't like the song, there is no need to be nasty to someone trying to have a good time.
Likewise, any negativity-filled submissions to the community event are highly disapproved.
No need for a high-quality cosplay! In fact, closet cosplay would be amazing to see from our community members, or you can just be yourself!
Have fun <3 First and foremost, this isn't a contest. It's a community event!
Prize? Prize? Priiize?!
A lucky, randomly drawn, participant will be eligible for a digital prize. We may scale up the prizes for more entries, so stay tuned to this post to see any progress!
Submissions Begin... NOW!
We will formally announce our community event on twitter, tomorrow to coincide with the release of Baby Shark, however our community members will see it first and be the first to know :D
November 21, 2018 23:50:40 +0000
(

UTC

)
LatidoReMe
The battles have been fought, the missions completed, and our counts are double-checked!
| | |
| --- | --- |
| | 25159 |
| | 23173 |
| | 16028 |
| | 14458 |
| | 13224 |
drumroll
🎈 The winning band of BoBv4 is Poppin'Party! 🎈
Win or lose, we hope everyone had an absolute blast hanging out with everyone else! It's the community that makes these kind of things possible, so thank you to everyone who supported the event! 💕
We've already began badge & feedback surveying, so we hope to have more news on the rewards for this BoB soon.
Have a poppin' day, everyone!
November 29, 2019 14:05:56 +0000
(

UTC

)
db0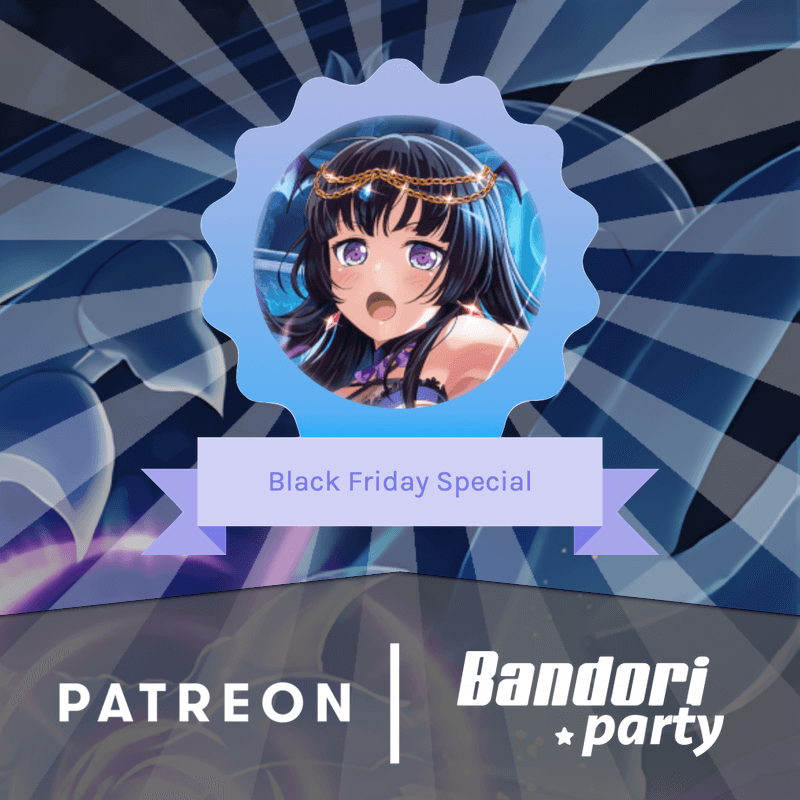 Happy Black Friday 🖤🎉
As a celebration, everyone who donates today will get a "Black Friday Special" badge featuring Rinko.
All donations go to cover the servers costs.
Thank you so much for your support!
---
Offer ends in [countdown=2019-12-01T11:00:00][/countdown]
---
Top 3 donators get special badges:
February 12, 2020 09:29:16 +0000
(

UTC

)
db0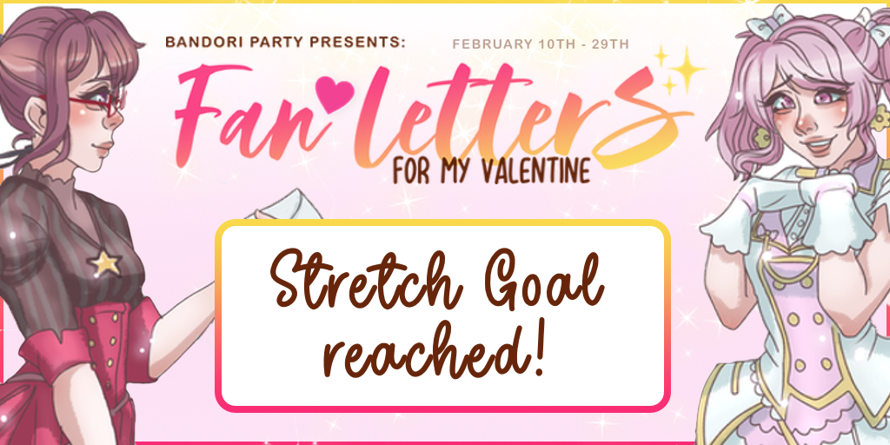 💝 𝒮𝓉𝓇𝑒𝓉𝒸𝒽 𝒢𝑜𝒶𝓁 𝓇𝑒𝒶𝒸𝒽𝑒𝒹! ✨
26 letters posted on Bandori Party, Twitter and Instagram with the hashtag #FanLettersForMyValentine 🍫 Which means there will be 2 winners who get a prize!
Next goal: 50 letters 🤩
When we reach it, we will add 1 winner who will get an official merch prize 🎁
Learn more: See event details
February 17, 2020 10:10:21 +0000
(

UTC

)
db0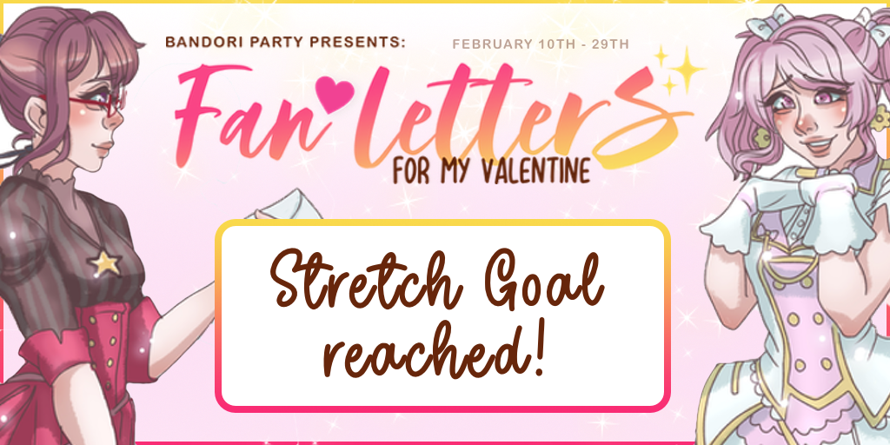 💝 𝒮𝓉𝓇𝑒𝓉𝒸𝒽 𝒢𝑜𝒶𝓁 𝓇𝑒𝒶𝒸𝒽𝑒𝒹! ✨
57 letters posted on Bandori Party, Twitter and Instagram with the hashtag #FanLettersForMyValentine 🍫
Which means there will be 3 winners who get a prize!
★ [Stretch Goal at 50: reached!] 1 letter will be picked randomly and will win a prize of their choice between a physical prize (official merch), a graphic edit commission or an art commission.
★ [Stretch Goal at 25: reached!] 1 letter will be picked randomly and will win a prize of their choice between a graphic edit commission or an art commission.
★ 1 letter will be picked randomly and will win a graphic edit of their choice!
Next goal: 100 letters 🤩
When we reach it, we will add 1 winner who will get an official merch prize 🎁
Learn more: See event details
December 16, 2019 12:44:06 +0000
(

UTC

)
db0

SnaP! Girls Photo Party
- Thank you 💕 + winners! 🏆🎉
Wow! You really went all of for this event! We really loved all your entries so much.
It was so nice to see people who didn't own merch DIYing their own. We're so happy and proud of our community.
They were all so good that we had a really hard time picking winners, which is why it took so long. We apologize for the delay, but without further ado, let's announce our winners!
---
And the winners are...
Voted top "🍂 Autumn Aesthetics"!
Voted top "🎨 Most Unique Display"!
Voted top "👻 Spooky Snapshot"!
---
Congratulations to our winners!
They will receive a prize of their choice among the prizes we offer.
---
Support our giveaways!
These special events are made possible thanks to the support of our warm-hearted donators. If you wish to support Bandori Party for both our future special events and to cover the cost of our expensive servers in which our site run, please consider donating on Patreon.
---
F.A.Q.
I won and I didn't hear from you?
I didn't win and I'm sad ;_;

The staff and the community loved your entry so your efforts didn't go to waste at all 💖 Please join our next special event!

How can I thank you for your amazing work organizing these special events?

We always appreciate sweet comments below, and if you want to push it a little further, we have a Patreon open for donations ❤️

More questions?
---
All participants
Cupcakefeliz, Cupcakefeliz, Cupcakefeliz, driponmypillowcase, Nozi, Barbie2689, Barbie2689, Seyukina, Can_I_join_Hello_Happy_World, chieri, princely, princely, princely, db0, FishFins
July 24, 2018 01:55:52 +0000
(

UTC

)
violetR
ANNOUNCING THE WINNERS OF KANAE'S BAND EXPERIMENT + CHANGE MY MIND!
Sorry for the delay everyone, we've been super busy working on some cool, new features for the site. However, we have decided all the winners from our past contests.
First up, Change My Mind Winners!
We previously announced the winners on Twitter and promised a write-up, and now that's here for you all! Each winner got a custom piece of art/design of their best girls! We also have an honorable memetion, which unfortunately did not meet the criteria from the original post. However, you can check this out here!
Popular Vote
Staff Pick
Random Pick
Next, the Kanae's Band Experiment Winner!
Judging for this contest was quite hard, as exemplified by our judges and our thoughtful staff members. They seriously loved ALL the designs! If you want to share your design on the site, please feel free to do that under "Fan Made" and "Community" tags! We posted all the entries in the last contest, but this time we feel it best for everyone to decide if they'd like to show it or not, and so that you can get the proper views/comments you deserve!
Without further ado, here's your winner of the Kanae Band Experiment Contest!!
Submitted by Canada
This design will be drawn by Brella just like before!
Our guest judges for the design/artist section of the contest were Misha, co-creator of Vocaloid Ruby -- Atychi, a fan-artist who knows who to hit you in the feels -- and, Andy, another fan of BanG Dream! whose fan art is cute and their love for HHW knows no bounds.
Misha's comment for the winning design was as follows, "This design has a very precious feeling to it, and fits right into the bang dream universe! I love the star motif, and all the colors work perfectly together. Overall, it's a very well coordinated design!"
Atychi's comment towards the winning design was, "This design was both cohesive and eye-catching, managing to be stylish and interesting while still being recognizably #BandoriParty. The balance of details throughout the character make for a truly wonderful design fitting of #BandoriParty and our Dear Mascot, Kanae."
And finally, Andy's feelings for the design were, "A very charismatic design. It has a lot of positive energy around it, a clever combination of elegance and fun."
The staff overall had thought the design fit the theme of Bandori.Party, as well as incorporated great details like the music staff into her sash, as well as kept the BanG Dream! thematic in together as a whole and gave us a really good package!
Again, thank you everyone who applied for the contests and participated. We loved every design, every single written piece of devotion to Best Girl! Thank you all for making BanPa such a great site to visit and work on~ <3
June 08, 2019 10:13:04 +0000
(

UTC

)
db0

Bandori Party is proud to join the LGBTQ+ celebrations for Pride Month. A month of happiness, and recognition of diversity and acceptance for everyone.
Until the end of June, use the hashtag #PrideMonth🏳️‍🌈 to share your stories with us!
October 02, 2019 13:03:27 +0000
(

UTC

)
LatidoReMe

SnaP! Girls Photo Party
a bandori.party special contest
---
Do you enjoy the art of photography? Or do you just adore pics of cute merch? If so, this contest is for you!
Line up your shot, and capture a beautiful themed photo with some BanG Dream! merch in the frame. Upload it to our site, and let the rest of the community enjoy your art too!
October 2 ~ November 10 UTC
How to Enter
To enter the contest, you must make a new activity on this website with at least 1 themed photo containing BanG! Dream merch and tag it #Bandori SnaP!
If you don't know how to make an activity like this, please check out our help page for guidance!
Themes
🍂 Autumn Aesthetics
👻 Spooky Snapshot
💞 Most Dedicated
🎨 Most Unique Display
🤣 Memes
Rules
You can only enter original photos that are no more than 3 months old
The photos must be centered around one of the themes listed above
The photos may be edited as long as you do it yourself
Multiple entries are OK
If you don't have merch, you can use homemade merch too! (Paper dolls, plushies, etc.)
Prizes
The winner for each theme will be eligible for a prize!
While the "Memes" theme winner can only receive a custom digital artwork by a Circles designer, the rest of the winners will be allowed to choose between artwork or one of our physical prizes!
Any Questions?
If you have any inquiries, feel free to reply in the comments or contact us, and we'll do our best to answer them!
September 17, 2019 22:08:08 +0000
(

UTC

)
violetR
CharaExpo USA 2019 -- Flowerstand Project
Hi all denizens of Bandori.Party! I'm violetR, your site's team manager! I may not post on Banpa often, however I love being apart of the BanGDream! Community as a whole, so I'm here to spread the word about the fantastic Flowerstand (Flasta) project members of the community have put together! Every BanG Dream! Seiyuu(voiceator) coming to CharaExpo USA this year has a stand project! This is something unprecedented for an overseas performance, but we are dedicated to making it happen!
What is Chara Expo USA?
Chara Expo USA is basically BushiroadCon. Literally. Check out the site here. The venue boasts tons of space, exhibits, and tons of content! Last year I had the pleasure of going, you can read about it here! If you can make it to Anaheim this year, from Dec 7-8, definitely do!
We managed to fund a Flasta for RAISE A SUILEN last year in just under a month, the Seiyuu were warmly receptive to the stand and we want nothing more to impress them once again!
Where can I donate to Flowerstands?
Here is the list of all the stand projects currently in funding processes. Even if a stand is funded, you may contribute to it. Many stands are donating excess to other stands to ensure we are all funded for the event in December! If you feel pressed for cash, of course do not donate. If you can only donate to one, pick your favorite as even if it's funded, you may end up funding another!
Additionally, artists! Many stands are still looking for someone to draw for them! If interested, please message the organizer on their listed platforms!
Poppin'Party
Roselia
RAISE A SUILEN
November 14, 2018 06:53:36 +0000
(

UTC

)
violetR
CharaExpo 2018 Formal Write-up!
Hi all, if you didn't follow on twitter, I made it out to California this weekend for CharaExpo! It was an amazing event, despite all the issues a lot of people had with it. Let's start with the beginning of the event!
The event started at 7AM PST for me! I had slept a good 8 hours in preparation for 'getting up early'. Bushiroad had made an official tweet that the lines were not allowed to form until 6AM. My boyfriend and I got some breakfast at our hotel down the road and made it about 7:30AM, and by the time we got there, the line was already wrapped through the gazebo! We were kind of shocked, since this was just a Bushiroad-exclusive event. We got into line and talked with some new friends about how they were actually there for Vanguard... So we got a bit hopeful and planned out our merch-strategy. You had to spend 30 USD to get a voucher to exchange for an Autograph Signature ticket, up to 3. Since it was my boyfriend and I, we needed 4 for the 2 lives that would be occurring later that day (Poppin'Party and RAISE A SUILEN).
About 9AM, we were allowed to get wristbands, and the line snaked back around the other side of the outside of the Anaheim Convention Center. We waited an hour until everyone was allowed to rush the event. Before we had gotten to the doors (Maybe 300 people behind) we were already getting pictures of what the merchandise line looked like. When we finally walked in, we were met with the Roselia and RAISE A SUILEN stands. I was really shocked, so I stopped to take photos before proceeding to the 3-times-wrapped merchandise line. I was really, really feeling some dread about the specific merch i wanted and the Live tickets... It took maybe an hour to get through the line, and by the time we were in all BanG Dream sign-tickets were gone (as I had been updating the twitter as it happened). We assumed the Live tickets would have 300 or so seats, but that apparently was not the case as we got in line to exchange and live tickets were gone. My boyfriend got a bit salty as I had purchased 5 tickets worth of merchandise and we couldn't use them for anything... The staff member did tell us, however, we would be able to stand outside for the Poppin'Party and RAISE A SUILEN concerts, which previously Bushiroad said was not allowed.
We just took it with the grain of salt we had, and went straight over to the left-railings and got good standing spots and waited for it to begin.
Seeing the girls in person felt so surreal. Aimin is just as radiant as I imagined, she's actually really blinding. Rimirin is so sweet and full of giggles, and Sae is so... Sae. There's really no way to describe her. The girls came out in their Star beat! outfits and I already knew what we were in for. I think it's really nice they bring these outfits back out so often, even if they are a bit older. Saechi and Aimin immediately commented on the size and excitement of the crowd, as it was much larger than it was in the Summertime when they came last year for GrandFest (which, happened the same weekend as AX, mind you). The girls could hardly speak without the crowd cheering at them, which kind of made me annoyed but what can you do...
They had a quick introduction and Aimi commented on the absence of Ayasa (having her own solo live) and Hasshi (apart of the [email protected] CG Live). She reminded us of the feeling of "doki doki, kira kira" being able to make us feel less lonely and have our feelings reach them. Sae had a small moment where she talked about how it was a different experience being apart of the project as a non-seiyuu talent who became seiyuu for the job. She loves how unique it is to bring a character to life not just with her voice, but also her talent.
There was a short segment where the artistes explained how they are like their character. Rimirin of course noted the love for chocolate and being a "Shy Girl" (in English). She asked how to say Choco Coronet in English, but I don't think the crowd really understood so they just yelled it back at her (Which, is still mostly accurate). Saechi brings up her 20 Rabbits and how it "just happened", and Aimin talks about how she gets very lonely when she's not around people, and the MC reminded her of the crowd that was here with her!
The girls then dug out the GBP app and played some songs for us. Someone next to me was shocked they could play the game well, especially with the crowd chanting and yelling at them as they played. It was also impressive for me to see the girls playing the English app and still being able to change the settings correctly to what they usually play. I was ready to play with them at first, thinking they would allow multi-lives. However, that was not the case and I was severely upset at it and the live began.
SET LIST
Tokimeki Experience - Time Lapse - Teardrops - Star Beat!
The live began with everyone in the seated area actually jumping out of their seats and coming up to the railing. Aimi asked everyone to go back to the seats, where only a few people obliged (she asked in Japanese). She realised they wouldn't be moving soon, so she just told them to be careful as the concert began. They had a wonderful set, I was extremely happy Time Lapse was played since its one of my favorite songs from the group. Aimi, Sae and Rimi all threw their picks at the audience to grab as souvenirs.
The live ended and a small encore-shout ensued but was quickly diminished when they realised there would not be one. The crowd dispersed and since it was already 1:30, I finally took the time to creep around the venue and take extra photos of everything, including Cosplay!
I took a bit of a rest to charge my phone and get lunch at a near-by Carl's Jr. since it had crept up to 3 PM by the time I was finished searching the venue. I got back about 4 PM and found some decent standing seats for my most-awaited event: RAISE A SUILEN.
The girls were nothing more than powerful at their performance. There really is little I can say about the performance in words that could possibly hope to capture the feelings, the performance, and the sheer stage-presence of RAISE A SUILEN. However, the staff were prepared this time for the crowd. They forced barriers onto the seating to herd everyone to stay into their row. Before it began, the staff reminded everyone of the policies and that they needed to stay right where they were for this concert as the Poppin'Party one had a few ... incidents.
SET LIST
R.I.O.T - That is How I Roll! Orchestra of Smiles (Reo) - Shuwarin Drea~min (Reo) Hey-Day Capriccio - Goka? Gokai?! Phantom Thief - Scarlet Sky - Mouichidou Luminous - UNSTOPPABLE
Starting and ending the show with their original songs is the smartest choice, they're easily the most powerful songs on their set. The wubs of the DJ stand and powerful guitar riffs are not easily ignored. During the introduction segment, Raychell prompted us, "Say My Name". Hearing Reo sing the cuter-sounding songs were definitely a treat. There were several instances where RAS were trying to direct the light-sticks for Orchestra and Shuwa, but I think most people ignored them. When the girls announced they would be playing Mouichidou, most of the crowd lost it. This is the first time it has been played live, since the single itself just came out in September. Risa told us the song would be more Mature since Raychell was singing it, and boy, was it full of bass!
Risa Tsumugi (DJ) spoke pretty fluent English and translated most of the other member's comments, including on the crowd's energy through-out the live. When UNSTOPPABLE finally ended, they were still on stage with lights off, instruments in hand. I took this moment to start the encore, as the crowd seemed to be in amazement of the set. I figured if they were still on stage with their instruments, then possibly.. we could really get an Encore! The first wave I started went on for about a minute, until a second string started after they had walked off finally. We asked for 5 minutes to get an encore from RAS. One of the staff members had to come on stage and tell us the event was over, there would be no encore, and to go home and get ready for Day 2. We all felt pretty defeated, but had a good laugh about it. I figured the girls were probably back-stage in shock we were going this hard.
I had to go to another event in Alhambra, so I got back to my hotel pretty late. My first day of trying to ticket didn't go well, so I didn't really want to try to get tickets again. I already bought the merchandise I wanted, anyway. I got up right before 10 AM and checked out of my hotel and got in about 12 PM.
Aimi's signkai sold out in just 20 minutes! Quickly following was Saecchi and Rimirin. This all happened before I even got in the door. My friend Wendy was messaging me saying she would try and see if a friend would grab me a Saecchi ticket, but it was not to be. I asked if there were any RAISE A SUILEN left, I would take it. I sat down for the Vanguard talk show for Aimin and to try and get a good seat for Revue, but Wendy messaged me to come pick up my Natsume ticket!!! I got up as quickly and discreetly as possible, as I didn't wanna be rude to the guests but I had to GO. GET. THAT SIGN... I met up with them, and headed back to camp in line for an hour. I was the 4th person in line. I was also told the Natsume ticket I had was the very, last, one. I wanted to cry. I asked for some help composing a small message in Japanese for Natsume, and while I waited I talked to the Franchise discord and they convinced me to let Natsume know I had organized the Flowerstand for them. So I added some additional lines to my greeting and tried practicing. I was just so nervous though. When it was my turn, I started out pretty well. I told her I loved the passion from their show, and was excited to meet her, get her sign. Quickly, my brain turned to mush, I stumbled over the rest of my japanese so bad the Translator next to me was confused, and Natsume was confused, so I just said, "I wanted to tell her I organised the Flasta..." Natsume went "AH!!" and recognised I drew Risa from the pen name I provided for my signboard. I was so nervous all i could say was like, "yes!" over and over, and "arigatou"... Natsume kept saying things back to me in English.
I posted my signboard up and realised she had wrote "Thank you for the flowers" on it! I was so flustered & shaky that I literally didn't realise it until maybe 30 minutes later event when my friend had asked how she knew about it because she wrote that on the board... I felt like such a mess. I had lunch to calm down before we went back to the venue to get my phone charged before Roselia's live.
At this point, we had been confirmed that the Roselia seating would be taken one step further from the RAISE A SUILEN concert yesterday. Upon entry, you would be getting a seat assignment. Last minute chuusen? Basically a given with Bushiroad, I guess. They also were telling multiple people not to stay for the show, there would not be standing seats. However, I decided we would really find out when the event started.
I finally got to meet fellow Staff member, LatidoReMe! We caught up on all the happenings and tried to find a good view of the stage since people here don't believe in proper concert etiquette. By the time they had re-set up the standing area, we were on the outside of it and moved straight up. However, we couldn't see where the keyboard would be normally set up. Figured it would be fine, and I was right. When the show began, the girls on either side made sure to give us on the left-standing area plenty of love. I think Yukki, Aiai, and Kudoharu sent us tons of kisses. The girls came out in the Blue Rose outfits.
The concert started pretty normally, and the talk sessions were quite short. Meguchii was very talkative as Ako for this live, and Yukki tried to keep quiet as her English was, "not good". They have such a good friend-like chemistry on stage.
SET LIST
Nesshouku Starmine - R - NeoAspect - ONENESS - Re:birthday - Tamashii no Refrain (w/ Nonchan) - BLACK SHOUT (w/ Nonchan) - LOUDER (w/ Nonchan)
After Re:birthday ended, the girls were talking about themselves and how it was weird to preform with four. The crowd began to wail a little bit, and a keyboard appeared from the dark by staff members (I was told, I couldn't see this area). The girls were talking in Japanese, but I felt my throat close up, and Aiai shouted, "SHIN MEMBER". With my 2 year-old Japanese vocab, I knew she had just said new member. My head got light, and my throat closed up. My eyes were rolling, tears were starting to well up. I asked everyone beside me, "Did she just say 'Shin Member'? Did they really, did they really bring her? Rinko? Kanon?" I think everyone else was in just as much shock because I got no reply, and she entered the stage.
I can only liken the feeling I got at that moment to a severe panic attack. I was having a really hard time breathing, I had to fan myself. Everyone was telling me it was okay, and they were right. It was so much more than okay. I need to preface this with, I don't even stan Roselia. I had a hard time distinguishing songs other than R and ONENESS for the set list because they blur together for me. I switched my light to white and sent a single tweet so everyone else who was absent could feel the moment, KANON SHIZAKI! I managed to bring myself back to reality as Tamashii no Refrain started, and I kept my blade white for the duration of their concert after that. I have no real words for the moment Nonchan joined us as Rinko. The rest of the live was a fight, the crowd got louder and more passionate.
The ending comments were sweet, and the guitars were taken away before they left the stage (probably to dissuade "encore" chants from happening again). The girls had to physically shush the crowd so they could do their silent bow at the end, and they had us all put our pinky to the air and devote ourselves to Roselia. Others said it looked like Nonchan was crying. She was soft spoken, had little to say except for welcoming her to the stage.
After the girls left, the small wave of encore tried to stir up again, but I think even if we could have gotten one, we should have ended the concert there.
October 05, 2018 05:04:55 +0000
(

UTC

)
LatidoReMe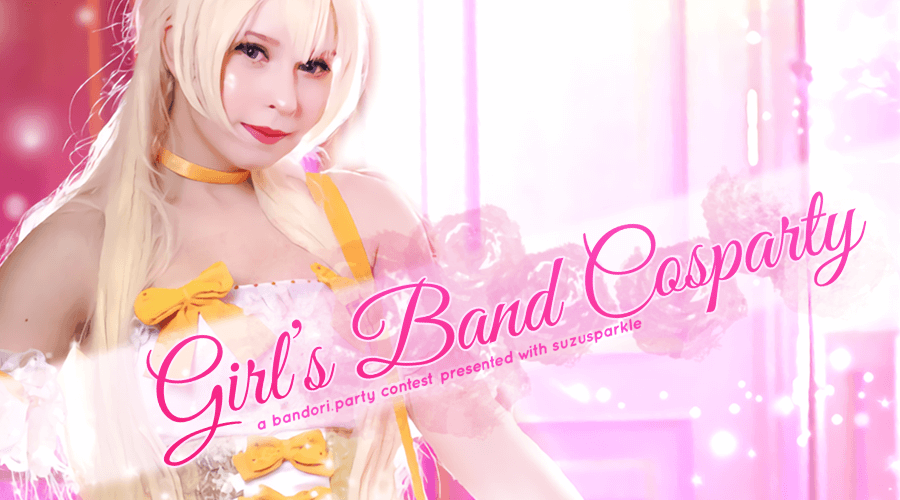 Girl's Band CosParty
a bandori.party contest presented with suzusparkle
---
Do you love to take on a persona, dressing up as someone you are not? Or do you get a thrill out of snapping beautiful photos of cosplayers? If so, this contest is perfect for you!
Use your abilities to coordinate a wonderful BanG Dream! cosplay, and then get a beautiful shot of it for everyone else to see!
Share your BanG Dream! cosplay photos with the rest of the community, and help hype everyone up for the costume-tastic times ahead!
Dates
October 10th - November 15th UTC
Winners
There will be 4 winners overall!
🏆 Most popular: Throughout the event, the community will be able to give likes to posts, and the two with the most at the end will be the most popular!
♥️ Suzu's choice: Our guest judge will use her extensive experience and knowledge in cosplay to judge all the entries and pick the top two!
Prizes
Your choice from our Physical Prize Pool
OR
Custom Digital Artwork by a Circles Designer
How To Enter
To enter the contest, you must make a new activity on this website with at least 1 of your BanG! Dream themed cosplay photos that has the #CosParty 2018 tag!
If you don't know how to make an activity like this, please check out this section from our help page for guidance!
Frequently Asked Questions
Q. Who is allowed to enter?
Anyone with a Bandori.Party account! We believe that cosplay is for everyone, so we're putting no restrictions on entrants.
Q. Can I submit a photo of someone else wearing a cosplay?
If you took the photo and have the permission, then yes! We understand that some people are better with lenses, and other wigs. If you were involved with the shooting of the cosplay and have permission (either wearing or photographing), we'll gladly accept it.
Note: If there are any other people clearly visible in the photo, they must give their consent too, or else be blurred out
Q. What characters can I cosplay?
Any form of a character from the entire BanG Dream! franchise. While the 25 main girls in GBP are the standard example, you could also try for Raychell, Debeko, the Suits, etc. We allow gender-bending and other creative takes on the characters too, so feel free to let your creativity soar!
(Also if anyone wants to cosplay our mascot Kanae, we'll accept those entries too)
Q. Is there a theme?
Nope! This contest is being held for Halloween, but we don't require the cosplay to fit the season. Make your cosplay theme whatever you think would be the most fun!
Q. What do you count as a "cosplay"?
Anything that you believe captures the essence of a certain character and is worn by someone (or similar, like a mannequin) in a photo counts! If you're short on cash or not confident in your abilities to sew outfits, feel free to get creative! The cosplay doesn't have to be a complete outfit either, so feel free to focus on just a dress, or making your face just as Bushido as Eve!
Q. What if my cosplay isn't done before the deadline?
If you believe that what you currently have still follows our definition of a cosplay, then you're free to submit it! You're allowed to edit your activity mid-contest too, so you can share your whole cosplay journey with us if you want. We and the rest of the community would love to see all that you've done, so feel free to post your WIPs too.
Q. What type of photo is needed of the cosplay?
Any appropriate photo of the cosplay being worn that wasn't already used on a Circles website or contest is acceptable! You can shoot it with a macro, a long-focus lens, your phone, your tablet, kindle, etc. Any location will work for the photo, and we'll allow you to moderate post-processing to your photo too! We want the integrity of the original photo to be intact, but feel free to add that extra little flair to make your photo truly shine.
Q. Am I allowed to showcase multiple cosplays?
Of course! We suggest posting them in the same activity, but you're free to make multiple entries as long as each features a separate cosplay.
Q. Are we allowed to promote entries on other social media?
We encourage this! More promotion equals more people discovering beautiful cosplays made by this wonderful community, so we are totally cool with you promoting entries! As long as you don't try to unfaithfully manipulate entries (ex. "I'll give you a dollar for a like"), we'll be all for it.
Q. Do I need to give my physical address to receive a prize?
We only need your physical address for physical prizes. We have digital prizes available for those who would prefer not to give out this info.
Q. How many prizes can I win overall?
You can only win 1 prize overall, even if you make multiple entries or succeed in multiple categories. These contests are about connecting and having fun with the community (instead of having your "eye on the prize") so we limit this.
Q. Who is suzusparkle?
suzusparkle is a talented BanG Dream! cosplayer who has been invited to be our guest judge for this contest! Using her experience in the world of cosplay, she'll give the entries a special perspective, and will assist us in deciding a winner.
To learn more about her, check out her Instagram, Twitter, or Facebook Page
Any More Questions?
If you have any other inquiries, feel free to reply in the comments or contact us, and we'll do our best to answer them!
Have a happy Cosparty everyone!