October 05, 2018 05:04:55 +0000
(

UTC

)
LatidoReMe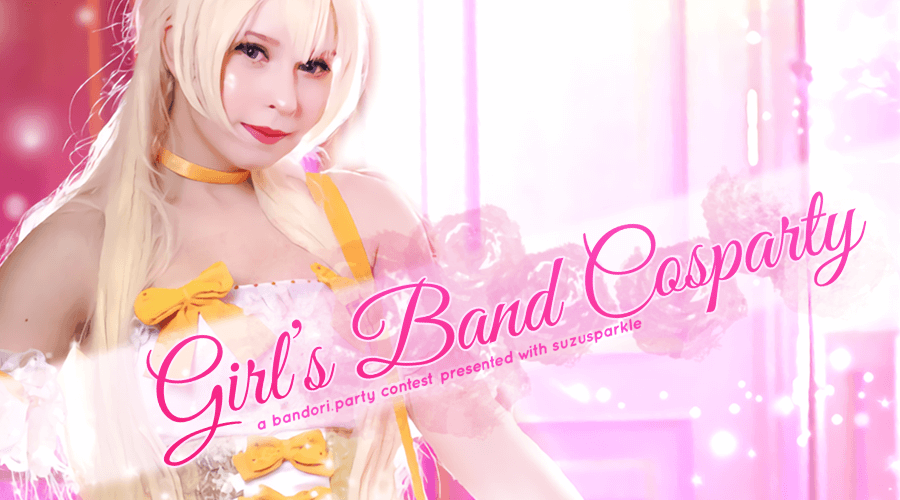 Girl's Band CosParty
a bandori.party contest presented with suzusparkle
---
Do you love to take on a persona, dressing up as someone you are not? Or do you get a thrill out of snapping beautiful photos of cosplayers? If so, this contest is perfect for you!
Use your abilities to coordinate a wonderful BanG Dream! cosplay, and then get a beautiful shot of it for everyone else to see!
Share your BanG Dream! cosplay photos with the rest of the community, and help hype everyone up for the costume-tastic times ahead!
Dates
October 10th - November 15th UTC
Winners
There will be 4 winners overall!
🏆 Most popular: Throughout the event, the community will be able to give likes to posts, and the two with the most at the end will be the most popular!
♥️ Suzu's choice: Our guest judge will use her extensive experience and knowledge in cosplay to judge all the entries and pick the top two!
Prizes
Your choice from our Physical Prize Pool
OR
Custom Digital Artwork by a Circles Designer
How To Enter
To enter the contest, you must make a new activity on this website with at least 1 of your BanG! Dream themed cosplay photos that has the #CosParty 2018 tag!
If you don't know how to make an activity like this, please check out this section from our help page for guidance!
Frequently Asked Questions
Q. Who is allowed to enter?
Anyone with a Bandori.Party account! We believe that cosplay is for everyone, so we're putting no restrictions on entrants.
Q. Can I submit a photo of someone else wearing a cosplay?
If you took the photo and have the permission, then yes! We understand that some people are better with lenses, and other wigs. If you were involved with the shooting of the cosplay and have permission (either wearing or photographing), we'll gladly accept it.
Note: If there are any other people clearly visible in the photo, they must give their consent too, or else be blurred out
Q. What characters can I cosplay?
Any form of a character from the entire BanG Dream! franchise. While the 25 main girls in GBP are the standard example, you could also try for Raychell, Debeko, the Suits, etc. We allow gender-bending and other creative takes on the characters too, so feel free to let your creativity soar!
(Also if anyone wants to cosplay our mascot Kanae, we'll accept those entries too)
Q. Is there a theme?
Nope! This contest is being held for Halloween, but we don't require the cosplay to fit the season. Make your cosplay theme whatever you think would be the most fun!
Q. What do you count as a "cosplay"?
Anything that you believe captures the essence of a certain character and is worn by someone (or similar, like a mannequin) in a photo counts! If you're short on cash or not confident in your abilities to sew outfits, feel free to get creative! The cosplay doesn't have to be a complete outfit either, so feel free to focus on just a dress, or making your face just as Bushido as Eve!
Q. What if my cosplay isn't done before the deadline?
If you believe that what you currently have still follows our definition of a cosplay, then you're free to submit it! You're allowed to edit your activity mid-contest too, so you can share your whole cosplay journey with us if you want. We and the rest of the community would love to see all that you've done, so feel free to post your WIPs too.
Q. What type of photo is needed of the cosplay?
Any appropriate photo of the cosplay being worn that wasn't already used on a Circles website or contest is acceptable! You can shoot it with a macro, a long-focus lens, your phone, your tablet, kindle, etc. Any location will work for the photo, and we'll allow you to moderate post-processing to your photo too! We want the integrity of the original photo to be intact, but feel free to add that extra little flair to make your photo truly shine.
Q. Am I allowed to showcase multiple cosplays?
Of course! We suggest posting them in the same activity, but you're free to make multiple entries as long as each features a separate cosplay.
Q. Are we allowed to promote entries on other social media?
We encourage this! More promotion equals more people discovering beautiful cosplays made by this wonderful community, so we are totally cool with you promoting entries! As long as you don't try to unfaithfully manipulate entries (ex. "I'll give you a dollar for a like"), we'll be all for it.
Q. Do I need to give my physical address to receive a prize?
We only need your physical address for physical prizes. We have digital prizes available for those who would prefer not to give out this info.
Q. How many prizes can I win overall?
You can only win 1 prize overall, even if you make multiple entries or succeed in multiple categories. These contests are about connecting and having fun with the community (instead of having your "eye on the prize") so we limit this.
Q. Who is suzusparkle?
suzusparkle is a talented BanG Dream! cosplayer who has been invited to be our guest judge for this contest! Using her experience in the world of cosplay, she'll give the entries a special perspective, and will assist us in deciding a winner.
To learn more about her, check out her Instagram, Twitter, or Facebook Page
Any More Questions?
If you have any other inquiries, feel free to reply in the comments or contact us, and we'll do our best to answer them!
Have a happy Cosparty everyone!