Luzy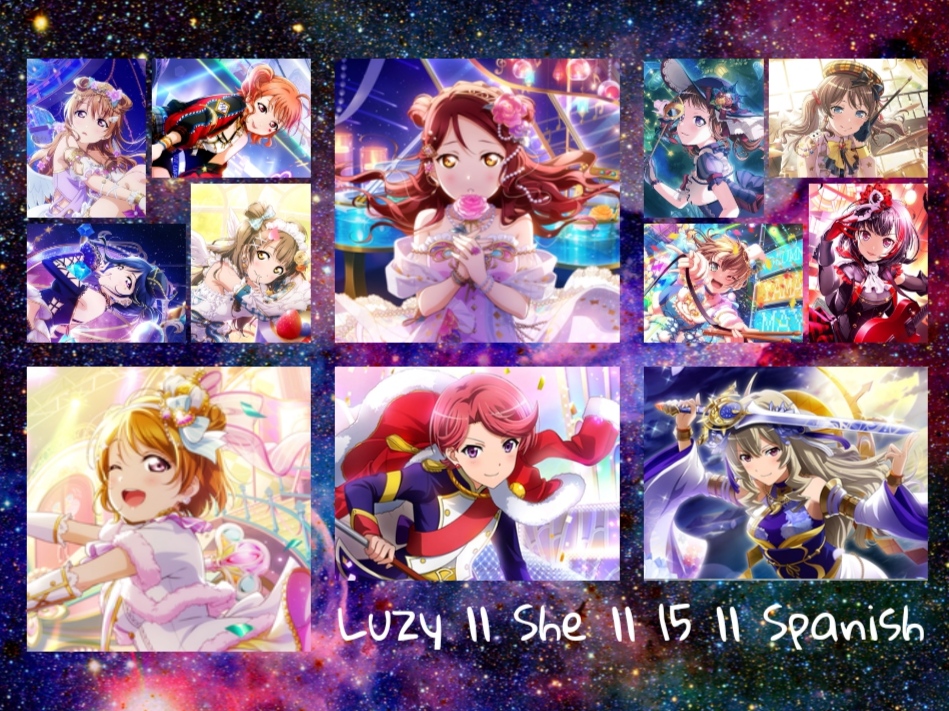 Hello! Welcome to my profile! UwU Feel free to add me in the game or send a DM! <3
🌸💕🌌
---
🌸💕🌌
Things about me:
🌸I'm a girl
🌸I'm 16 years old, and my birthday is 27th of october
🌸I'm from Spain
🌸I speak Spanish, and a little bit of English (so sorry, I know my english is bad >.<)
🌸I LOVE Love Live, and I play SIF and SIFAS (my best girls are Kanon, Riko, Hanayo and Kanata!)
🌸My best bandori girls are Ran, Kasumi, Saaya, Maya, Ako, Rinko and Kaoru!
🌸I love Ran before enter in bandori, and still love she! ~ Itsumo Doori ~
🌸I love drawing, singing and dancing!
🌸My favourite songs are Romeo, Hachigatsu no if, Kiseki, FIRE BIRD and Y.O.L.O!
🌸My worst girl is Arisa, beacuse I don't like tsundere girls ;(
🌸💕🌌
---
🌸💕🌌
My top:
🌸Poppin Party: Kasumi > Saya > Rimi > Tae >>>> Arisa
🌸Afterglow: Ran > Tomoe > Tsugumi > Moca >>> Himari
🌸Roselia: Ako = Rinko > Sayo > Yukina >> Lisa
🌸Pastel Palettes: Maya > Eve > Hina ≥ Aya >>> Chisato
🌸Hello, Happy World!: Kaoru > Kokoro > Misaki > Kanon >>> Hagumi
🌸 Raise a Suilen: Pareo > Rokka > Layer > Masking > Chu2
🌸Morfonica: Futaba > Mashiro > Touko = Nanami >>>>> Rui
Remember is my opinion and I love them!
🌸Top 35:
🌸💕🌌
---
🌸💕🌌
Best bands:
Afterglow ≥ Popipa > Morfonica > Pasupare > RAS ≥ Roselia = HHW
(Love all of them!! All are wonderful in their own way!)
🌸💕🌌
---
🌸💕🌌
My queens:
🌸 Ayasa Ito:
(Best Bandori seiyuu)
🌸 Aimi:
(Princess)
🌸 Ami Maeshima:
🌸 Aina Aiba:
🌸 Haruka Kudo:
🌸 Megu Sakuragawa:
(And they aren't principal seiyuus but I must say them because they are my two favourites from all Bandori seiyuus)
🌸 Mimori Suzuko:
(I love youuuuu queen!!)
🌸 Sora Tookui:
🌸💕🌌
---
🌸💕🌌
Stan them:
1 account:
Center

★★★★ Ran Mitake - Power - Spectacled Self
Open center

Join date

October 11, 2020 13:42:54 +0000

(

UTC

)


October 11, 2020 13:42:54 +0000

Start date

October 10, 2020 00:00:00

(

UTC

)


October 10, 2020 00:00:00

Level

127

Friend ID

6223732

Version

English version

Play with

Thumbs

Operating System

Android

Device

Xiaomi

Screenshot

Leaderboard position

#136

Report account
Share